5498 Forms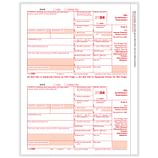 Optimize your business tax preparation procedures with ample supplies of IRS tax form 5498 in the versions you need for tax time. Ordering pre-printed forms from us relieves you of the hassle of ensuring your business has the current version required by the IRS.
Multiple Versions
When reporting contributions, it's critical to have forms that provide all of the information required for that contribution type. These forms have all the required information. And we offer this form in multiple versions to cover every aspect of reporting. For instance, we offer the federal 5498-IRA Copy A sheet and the state 5498-IRA Contribution Copy C sheet. You may also find that you need the 5498-SA HAS, Archer MSA or Medicare Advantage Trustee Copy B sheet or the 5498-ESA Coverdell ESA Contributions Trustee Copy C sheet.
Buy Bulk and Save
Stocking up on 5498 forms is easy to do when you take advantage of our bulk buy deals. Basically, the more cartons you buy the more you save!
Do you need other tax forms? Go here to find them.
We provide great customer service for your tax form needs. Ask questions by phone at 855-632-8520 or online.
---