1042 Forms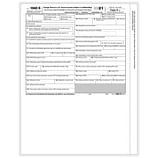 Make sure you always have the right 1042-S forms on hand for your business when you buy directly from Supplies Shops. The Foreign Person's U.S. Source Withholding form is essential for companies who employ foreign workers, and we have different versions on hand to fit your tax form needs.
Laser Printer Compatible
All of our pre-printed 1042-S forms are made from sturdy paper and they are designed to be used with laser printers. Each form includes all of the IRS required boxes and instructions to make your printing task an easy one.
Choose Your Preferred Form Style
We recognize that tax form processing can be different at every business, which is why we offer many different form styles. Choose from Copy A, Copy B, Copy C, and Copy D cut sheet packs, a 3-up multi-cut style, or a carbonless style. We also offer a single-window 1042-S envelope for added convenience.
Need more tax forms? Shop our full collection of tax forms.
We are happy to answer any 1042-S tax form questions you have at [email protected] or speak with us at 855-632-8520.
---