Plain White Laser Printer Labels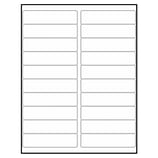 Always have a supply of white laser labels on hand whenever you need them by choosing to order in bulk from Supplies Shops. Our label collection is easy to navigate and offers the most popular white label styles for multipurpose use. These labels are compatible with laser printers, inkjet printers, and copiers, giving you flexibility in printing without sacrificing print quality. Browse to find small, medium, and large white labels in the styles you need to achieve your project goals.
Mailing Labels
Speed up your mailings by finding white laser labels to use for addressing shipping envelopes and boxes. There are rectangular labels and square labels suitable for various sizes of envelopes and containers. Larger labels are easier for carriers and postal workers to see during shipping, handling, and delivery.
Filing Labels
Create any type of filing system you want with supplies of white laser labels. Find labels in all sorts of configurations to place on file folders, divider tabs, and file pockets.
As you browse, consider using our custom labeling solutions for your projects. We can also help out with custom files.
Questions? We're here to help you in any way we can. Contact us at [email protected] or talk to us by phone at 855-632-8520.
---