First Class Large Catalog Envelopes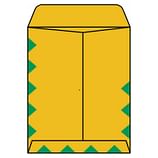 Skip the hassle of going to the post office, or office supply store, and order your First Class large catalog envelopes from Supplies Shops. This popular large envelope style has a classic catalog envelope design and features a printed green border made up of diamond shapes. The words "First Class Mail" appear on the front to alert mail carriers of its postage class. We offer several sizes, and there's an envelope size that's right for your mailing project. Envelopes come in brown/tan kraft, white kraft, or white Tvyek.
Great for Multipurpose Use
Choosing a large envelope size for First Class mail has many advantages. For instance, you can use them to mail contracts, reports, business proposals, booklets, marketing or publicity kits, and so much more. And because they are clearly labeled for postal workers, your mailings get treated with priority.
Classic Design and Construction
The First Class large envelope stock you receive from us have the same quality construction and visual professionalism as those offered at the post office. The only difference is you get to order as many as you want at bulk wholesale pricing.
Need custom printing for your envelope order? Let's chat about it. Call our customer service team at 855-632-8520 to discuss printing details or send your questions and inquiries to [email protected].
---