Tax Mailer Envelopes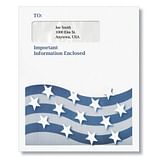 Get those tax returns back to your clients in our professional tax mailer envelopes from The Supplies Shops. Find several styles and sizes in 50-envelope packs or value-priced tax mailers in bulk to fit your tax business envelope needs. We offer affordably priced custom-printed tax mailer envelopes, too.
Tax Return Mailer Envelopes
We have First Class double-window envelopes with peel-and-seal openings in 9 ½-in. by 12-in. sizes. Shop our line of tax booklet mailer and tax catalog mailer envelopes.
Find "Ultra Tax" landscape-orientation tax return mailers. Offset double windows allow visibility of both the recipient address and return envelope. The words "First Class" are on each handsomely designed envelope with a diamond-design border and peel-and-seal closure.
See our line of income tax records envelopes, and attention-getting Stars and Stripes double-window tax mailer envelopes.
Find First Class double-window tax return mailers that are compatible with Ultra Tax by Creative Solutions, ATX, Max, and 1040 printing software packages. Sizes include 9-1/2-in. by 12-in tax return mailers with easy to use peel-and-stick closures.
Tax Booklet Mailers and More
We have First Class booklet mailers in 10-in. by 13-in. sizes that allow these tax return booklet envelopes to hold multiple pages, booklets, or sets of documents.
First Class imprints on our envelopes signal to the recipient that what's inside is important.
Save money on all our tax and accounting forms. Our 8-1/2-in. x 14-in. EZ fold W2 tax forms for reporting wages paid at your business meets IRS filing requirements.
These fill-in-the-blank W2 forms have adhesive around the edges, which allows you to create self-mailers.
We have pre-printed IRS Form 5498 forms that are used to report IRS contribution information. You can also find tax software for less at SuppliesShops.com.
---