Bubble Padded Envelopes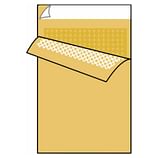 Bubble mailer envelopes are always good to have around when you want to mail an item that requires more protection than a standard mailer. We offer a selection of bubble padded envelopes made from #55 recycled golden kraft paper, a truly sturdy paper that stands the test of time. Find padded envelopes in the sizes you use the most. This collection includes standard open end bubble mailer envelopes and clear bubble pouch envelopes. Prepare for busy times by stocking up now.
Protect Valuable Contents
Bubble mailers are envelopes that can protect valuable documents and certain items you don't want to place inside of a box. The plastic bubble interior cushions the impact on envelope contents during mail handling and processing. This ensures your content gets safely to its destination.
Kraft and Clear Options
We offer kraft and clear envelope styles. Kraft bubble mailer envelopes are useful for shipping and come with a peel & seal closure. The clear type of padded envelopes are typically used for storing and protecting electronic components or motherboards. They can also be useful for storing all sorts of sensitive items. These flush cut envelopes do not have a seal.
We are happy to print custom labels for your bubble padded envelopes. Give us a call at 855-632-8520 to discuss label options or send your label ideas to [email protected].
---