Media Mailers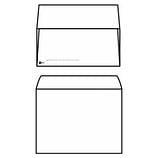 Anytime you need to mail out a CD or DVD, you can use the convenient media mailer style of envelope to complete this task. Media mailers are designed specifically for mailing delicate media that fit snuggly inside. Typically measuring 6" x 8" or 6" x 9" these boxy envelopes offer a better way to ship CDs and DVDs to any destination through first class or third class mail. Get bulk quantities of innovative eKEY multimedia mailers at Supplies Shops and save.
Cost Savings
Unlike plastic media mailers, or larger paper mailers, the eKEY multimedia mailer has a smaller, more compact design. It is also lighter in weight than bulky mailers, drastically reducing your per piece mailing costs.
USPS Tested
The eKEY multimedia mailers have been put through the rigors of the US Postal System and they came out with flying colors! A major advantage of using these mailers is their innovative insert design. A CD or DVD placed inside the insert sits higher in the pocket, which avoids mail machine processing damage to the media.
Interested in having us custom print your multimedia mailers? Send us a note at [email protected] or talk to us directly at 855-632-8520.
---