Proxy Mailers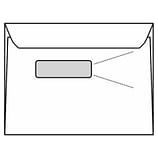 Are you a business or board manager responsible for sending out proxy materials? Now you can streamline this tedious task by using proxy mailers from The Supplies Shops. Also referred to bi-pack envelopes, these booklet-style mailers are ideal for sending out annual reports and proxy voting cards to stockholders. They have an inside pocket behind the cellophane window that feature easy access perforations.
What Are Proxy Materials?
Proxy materials are documents that public corporations are required to send out to their shareholders. Mailed in advance of shareholder meetings, their purpose is to provide information regarding upcoming votes for important corporate issues, such as elections for Board of Director positions. They also include information about how stakeholders can designate a proxy to vote for them should they be unable to attend the meeting.
The Best Proxy Mailers
Proxy packets contain important and complex business information that typically have to be sent out to a large number of recipients. To ensure the task is completed in an organized and efficient manner, it's essential to use proxy mailers designed specifically for this purpose. At The Supplies Shops, we have the best proxy mailers at affordable prices.
Made from 28# white kraft paper and featuring a vellum finish, our high-quality, 9" x 12" proxy mailers look clean and professional. They are SFI-certified, have a brightness rating of 84% and feature cellophane windows with access perforations. They also have remoistening seals. Each box contains 500 proxy envelopes and you get a volume savings of over 15% when you buy more than 20 boxes. You also get free shipping on orders over $99.
Have questions about our proxy mailers, custom-printed envelopes, custom business forms, or any other items from The Supplies Shops? Just send us an email at [email protected] or give us a call toll free at 855-632-8520. Our friendly customer service reps are standing by and ready to help you with whatever you need.
---