Health Safety Posters and Products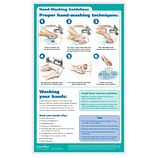 Health and safety posters and products are extremely useful to have at your place of business. They contain information regarding best practices for hand washing, as well as how to prevent illness such as the flu, and other communicable diseases. We also offer a series of COVID-19 pandemic related products. These items relate to facts vs myths regarding the disease, and also offer ways to cope with stress and anxiety that may be caused by the outbreak.
We also have Families First Coronavirus Response Act (FFCRA) Posters, which have just been released in response to the COVID-19 emergency. All private employers with fewer than 500 employees, plus certain public employers, must display the new federal workplace posting on a temporary basis through 12/31/20. As an alternative, employers may satisfy the posting requirement by emailing or direct mailing the posting to all employees, or posting the notice on an employee information website.

The poster summarizes the new emergency paid sick leave law, which remains in effect until December 31, 2020, and explains the circumstances under which employees qualify for immediate paid sick leave due to the COVID-19 emergency.
---