HR & Employee Record Keeping Compliance Products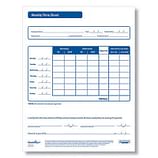 Maintain accurate attendance records for all of your company's employees using detailed record keeping products designed for today's workplace. Browse our collection to find attendance calendars, attendance tracking kits, attendance tracking folders, and similar products that help you streamline your recordkeeping. We offer these products at competitive pricing to ensure you get excellent value for every product you purchase from us.
Effortlessly Track Attendance
With ready-made attendance calendars, there is no need to invent your own tracking system. Calendars are designed for optimal efficiency, and typically feature fields for filling out employee information, such as monthly calendars showing days of the week and absence codes. Quality attendance calendars may also include additional space for recording overtime hours, paid/unpaid, notes, and quarterly attendance totals.
Time Off Requests and More
Set up your tracking system however you wish with additional tracking forms such as time off request and approval, or pocket folders with a printed employee tracking form on one side.
Go beyond attendance with workplace wall posters. Displaying Federal and State Law Posters is an easy way to promote workplace compliance.
Get your HR and employee form questions answered promptly by filling out our online contact form or calling our customer service center at 855-632-8520.
---