Pre-Collated Carbonless Paper - NCR Paper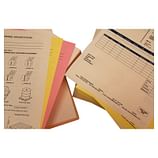 Stock up on the best paper for printing crisp text and images when you shop at The Supplies Shops. Pre-collated carbonless paper, or NCR paper, can be used in laser, inkjet, and digital printers and copiers. Ideal for invoices, delivery receipts, statements, packing lists, and many other business applications, these pre-collated carbonless copy sheets are especially versatile in office environments. You'll be able to choose from cheap NCR paper in either white and canary or white, canary, and pink sheets to make it easier to tell each piece apart. These extra forms can be used to file copies and/or provide customer copies with ease.
Perfect for Professional Applications
With pre-collated carbonless paper, you'll be able to produce clear and legible text and images down to the last part of the form. These collated forms are an excellent alternative to traditional carbon copy paper and they have a sleek, professional look that's great for business applications, especially when you use our business form customization services. Choose 2-part carbonless paper if you only need to keep a single copy after giving one to the customer. If you want an extra copy for filing or accounting purposes, choose 3-part carbonless copy paper instead. Unlike carbon copy printing paper, this carbonless style is less messy and safe to use with all types of printers and copiers. That makes it easy to complete carbonless paper printing in any office environment.
Quality Products and Great Service
Keep your business organized with pre-collated laser cut carbonless copy paper from The Supplies Shops. If you've been looking for a simple and affordable alternative to carbon copy paper, you've come to the right place. Our selection includes two-part and three-part carbonless copy paper, or NCR copy paper, for laser printers, inkjet printers, and copiers. You'll also be able to choose from a variety of different colors and carton sizes. Reach out to us at 855-632-8520 or [email protected] if you need any assistance with your order for NCR carbonless paper or other business and office supplies.
---