Workplace Safety: Coveralls, Face Masks, Eye Protection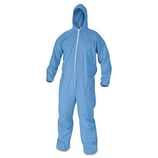 Top-Quality Workplace Safety Apparel
Workplace safety is not something you want to take lightly. Not only could poor practices lead to injured or sick employees, they could also leave your business liable to lawsuits and susceptible to being fined. The Occupational Safety and Health Administration (OSHA) sets forth stringent guidelines to protect employees while on the job, and not following these guidelines could cost you thousands in violation fines and, even worse, your company's reputation. Don't risk it! The Supplies Shops' workplace safety apparel exists to keep your employees safe and your business up the code.
Protecting Employees from Risk and Hazards
Our selection of protective workplace apparel includes everything from beard covers to full-body protective coveralls. These items prevent your employees from being exposed to harmful chemicals and substances while also keeping them from transferring any bacteria into the work environment. Don head-to-toe protective apparel, including gloves, protective sleeves, shoe covers, face masks and disposable lab coats. Perfect for the lab, medical office, food service environment, workshop, or anywhere hazardous materials are used, these products will keep your employees safe from sickness, injury and contamination.
Other workplace safety products in our selection help address common facility hazards. Shop head and face protection to keep your workplace safe and up to the latest regulations, and stock up on industrial ear plugs and safety glasses and eye protection supplies so you always have extra on hand to prevent accidents. If you don't see exactly what you're looking for or need assistance with your order, the team at The Supplies Shops is always available to assist. Contact us via e-mail at [email protected] or by phone at 855-632-8520 and we'll be happy to help. Don't forget to take advantage of free shipping on orders over $99!
---