Custom Tape: Custom-Printed Tape, Custom Packing Tape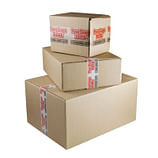 Achieve Functional Branding with Printed Tape
Bring some pizzazz and a memorable branding flair to your packaging or shipping with custom printed tape from The Supplies Shops. Commonly used for box sealing and light bundling, our high-quality branded tape can be used to reinforce your branding when sending shipments to customers, clients and partners. It also creates a uniquely memorable unboxing experience for any recipient.
When printed with your vibrant logo, brand colors or messaging, this custom shipping tape stands out in a crowd. Plus, we all know tape is the unsung hero of the warehouse and office, so it will undoubtedly get tons of use beyond boxing. Custom-printed tape is our specialty, so we have styles to suit a huge assortment of daily tasks, including custom packing tape in white and clear. Custom printed packing tape comes finished on conveniently sized cores so you can easily integrate it into the dispensers you already use. By topping off your boxes with custom tape, you're creating a clean seal while reinforcing your business branding. A definite win-win for the savvy business owner!
High-Quality, Branded Tape with Your Design
Printed tape from The Supplies Shops can be ordered with any custom design or message, using up to three printed colors in a single design. There is a 1/8-inch print margin and the artwork is set to a 9.2029-inch repeat on each roll. This custom tape features a pressure sensitive adhesive that provides a sturdy seal as well as a durable polypropylene film construction, so it endures in more demanding conditions. It comes on a convenient 3-inch core for easy handling and so your employees can quickly seal packages.
Ready to order your custom packaging tape? The Supplies Shops will gladly work with you to bring your design to life. All custom printed tapes will be proofed after checkout but before production begins to ensure that your design perfectly matches your vision. With free shipping deals and measurable volume discounts, we can help you create budget-friendly custom taping solutions for your business. No matter if you're just starting out or are looking for a new taping option that sticks (pun intended), The Supplies Shops is a reliable partner for the job.
To place your custom shipping tape order, get in touch with us at [email protected] or call us toll free at 855-632-8520. Be sure to shop our entire selection of tape to find more excellent custom tape options that will help take your branding to the next level. Order your custom tape here to take advantage of free shipping on orders over $99!
---