Fanfold Thermal Transfer Labels - Fanfold Labels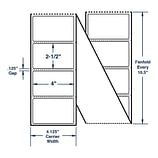 Make your labeling system as efficient and effective as possible with the help of these fanfold thermal transfer labels from The Supplies Shops. Ideal for shipping labels, bar codes, identification labels, and price labels and tags, our fanfold thermal transfer labels offer excellent versatility for all kinds of retail and inventory needs. The smooth surface ensures superior print quality and is excellent for storage and future use, and the labels stack easily. The fanfold design on our labels provides twice as many labels versus roll stock as well.
Choose from a range of thermal transfer labels sizes starting at 2" x 1" and going up to 6" x 4". Our fanfold labels are available in classic blank white styles as well as solid colors. If you need something other than what you find in this collection, don't hesitate to contact us at 855-632-8520 or [email protected] to learn more about custom design options for labels, envelopes, business forms, tape and filing folders.
---