Polyester Stock Thermal Transfer Labels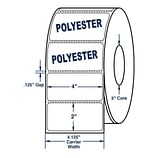 Make sure you choose labels that can stand up to all kinds of indoor conditions when you choose polyester thermal transfer labels from The Supplies Shops. These labels offer a great level of versatility due to their durable material. Polyester stock thermal transfer labels are designed for applications like rating and serial plates that utilize barcodes, graphic symbols and logos, and require nameplate-like quality. These durable labels are waterproof as well as tearproof, so they are commonly used for applications like shelf labels and bin labels.
Polyester thermal transfer labels are best suited to indoor applications requiring durable or moisture-resistant labels. Choose from a range of sizes in this collection. If you can't find what you're looking for, don't hesitate to reach out to us at [email protected] or 855-632-8520 to discuss options for custom labels or inquire about our other customization options for business forms, filing folders, tape and envelopes.
---