Wound-In Rolled Thermal Transfer Labels - Rolled Labels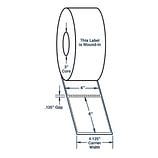 Create an easy and effective solution for all your labeling needs with wound-in rolled labels from The Supplies Shops. Designed to work with thermal printers, wound-in thermal transfer labels are made from the highest quality materials to ensure proper imaging and processing. Our thermal rolls feature clean release cores and ensure that there are no jams at the end of the roll.
Choose from a variety of label sizes range from 4" x 3" to 4" x 6.5". Each roll contains hundreds of labels, and you can get a discounted price when you order two or more cartons. All orders over $99 will also receive free shipping. If our standard options listed here don't meet your needs, contact us at [email protected] or 855-632-8520. We offer a range of custom design options for labels along with other handy supplies, including envelopes, tape, filing folders and business forms.
---