D.O.T. Hazard Labels – Class 1-9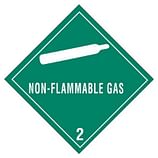 Explosive, corrosive or radioactive, D.O.T hazard labels from Supplies Shops cover it all. Our hazard labels are large and bold, making them hard to miss. We carry class 1-9 Department of Transportation approved labels that are large enough for packages, cases, crates and more. The colors, bright labels, and universal symbols make it easy for everyone around you to know exactly what you're carrying and why getting too close may not be the best idea. Can't find the right label for your needs? We also carry custom labels, which can be personalized online.

D.O.T hazard labels are required for transporting certain types of dangerous materials in an official capacity, whether it's by plane, train or automobile. The labels not only alert handlers to potential dangers, they also provide critical information to first responders in the event of an emergency. When shipping flammable, corrosive, explosive or radioactive materials, there are guidelines in place for signage and our D.O.T. hazard labels meet all Department of Transportation rules for labeling in terms of size, shape and color. For those that ship hazardous materials on a regular basis, our labels are sold by the roll and each roll contains 500 labels.

Stock upon all of your favorite D.O.T. hazard labels today and take advantage of our free shipping offer on qualifying orders. Have questions or need help with your order? Send us an email to [email protected] or call us toll free at 855-632-8520 and we'll be happy to help.
---