Government Regulated Labels – Shipping Labels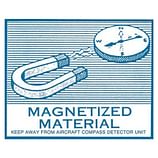 Shipping hazardous materials and dangerous items requires a label, at least according to the government. Make sure you're in line with Uncle Sam's requirements the next time you mail a package containing small arms, dry ice, biohazards and other sensitive items by attaching the proper government regulated label from Supplies Shops. Our regulated labels come in dozens of designs and are self-adhesive, so you can peel, stick and ship with ease. Don't see what you need? Make your own custom label using our online editor. Labels are sold by the roll and each roll contains 500 labels of your selected design.

Make sure your package gets to where it needs to go with minimal interruptions by shopping our selection of government regulated labels. At Supplies Shops, we don't make the rules, but we help make it a little easier for you to follow them with self-adhesive shipping labels and dry ice warning stickers that meet all of the government requirements for shipping hazardous, dangerous or sensitive materials.

Shop at Supplies Shops today to stock up on all of the government regulated labels you need for personal or business use. Buy 500-label rolls at our low prices and take advantage of free shipping when you spend $99 or more. For help ordering or for questions about any of our label products, just give us a call at 855-632-8520 during our normal business hours or email us at [email protected] and one of our label experts will be happy to help.
---