Glass & Liquid Labels – Fragile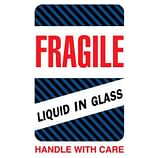 Glass labels and liquid labels indicate packages that contain either glass, liquid, or glass filled with liquid. These labels encourage careful handling to preserve the contents of the container, preventing breakage and potential spills. Use these labels liberally on packages that are fragile and may break easily. The warning labels are self-adhesive and can be used on packages that will be shipped or stored. The high-quality labels have smooth finishes and come in a variety of styles with text, pictures, or a combination of text and pictures.

Shop for glass and liquid labels at Supplies Shops today to stock up on high-quality labels. Order any of our glass and liquid designs or create your own custom label using our online system. Our labels are a great value and shipping is always free on orders over $99. For questions about our labels or for help ordering, email us any time at [email protected] or call us at 855-632-8520 and we'll be happy to help.
---