Delicate Instrument Labels – Warnings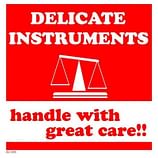 Delicate instrument labels give shippers and handlers the extra information they need to know how to handle a package. If you're shipping a delicate instrument, these warning stickers can let handlers know that they shouldn't drop the fragile or delicate instruments. Basically, they function similarly to handle with care labels, letting shippers know to take extra levels of care when moving and storing these items. With six label sizes to choose from, you can determine how easy it will be to notice your delicate instrument labels. As with all Supplies Shops products, the more you purchase, the more you save!

If you're in the business of shipping instruments, you need a roll of delicate instrument labels from Supplies Shops. The self-adhesive labels are easy to use and with so many sizes, colors and styles to choose from, you can find the right label for any need. Delicate instrument labels can be combined with our other shipping and handling labels as needed, and orders over $99 ship free. For questions or ordering help, we can be reached at [email protected] or 855-632-8520.
---