Made in the U.S.A. Labels – Made in America Stickers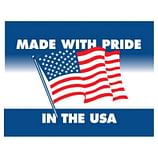 Made in U.S.A. labels evoke the pride associated with the fact that your product was manufactured in the United States. With "Buy American" being a prominent motto thrown out during the recession, don't miss the opportunity to let anyone know that your product was made with pride right here in the United States. Choose from dozens of Made in the U.S.A. label designs, all featuring the American flag, so your customers will know at a glance that they're buying American. Don't think a flag is enough? We have labels that say, "Made in the U.S.A.," too. Some of the labels you can choose from include plain American flag labels (no text), standard made in U.S.A. labels (with flag), and thank you for your order made in U.S.A. labels. Show that America is still a manufacturing hub with Supplies Shops' made in the U.S.A. labels!

Find your favorite made in America sticker rolls at Supplies Shops and save on shipping when you spend $99 or more. Our made in America stickers are easy to use and are self-adhesive, so you can simply peel and stick your pride. Order one roll of stickers or a dozen and take advantage of Supplies Shops' huge selection and low prices. Need a special design made? Check out our custom label options to bring your visions to life. For questions or help ordering, just email us at [email protected] or call us at 855-632-8520 and we'll be happy to help.
---