Hazardous Waste Labels – Hazardous Shipping Labels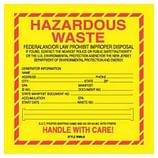 Hazardous waste labels are used to signify products that can be environmentally hazardous. They are commonly used in the shipping industry, and in many areas special warning labels are not only a good idea, but are also required when shipping hazardous materials. Supplies Shop offers a variety of hazardous materials labels, ranging from standard hazardous waste labels to California and New Jersey specific hazardous waste labels. Order bold 4" x 4" environmental hazard labels or 6" x 6" hazardous waste labels to be sure to attract attention and let everyone know when caution is needed.

At Supplies Shops it's easy to save on the hazardous materials labels you need. Just buy two rolls (or packages) or more and save per roll! We also offer free shipping on orders over $99, so the more you buy, the more you save. For questions about any of our self-adhesive hazardous waste shipping label products, please email us at [email protected] or call us at 855-632-8520 and we'll be happy to help.
---