Lithium Battery Labels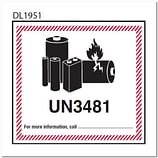 Do you ship packages that contain one or more lithium batteries? Make sure you are up to date with the latest international safety notice requirements with supplies of lithium battery warning labels. Supplies Shops is your online resource for this unique type of warning label, and you can get these labels in the bulk quantities you desire for long-term use.
Fully Compliant
All label styles featured here are 100 percent compliant with current international regulations. This means the labels you order from us complies with D.O.T., I.A.T.A. and I.C.A.O. shipping regulations. The purpose of these universal regulations is to make sure everyone shipping anything with lithium batteries takes action to let carriers and postal workers know about potentially harmful or hazardous contents inside of shipping envelopes or boxes.
Labels are printed on quality paper and designs are done in a way that make them boldly standout. For instance, there are label styles that depict illustrations of batteries so there is no confusion about the intent of the warning label. Graphics and bold colors help shipping workers immediately identify potential hazards, which can help them make good decisions about how to handle such packages.
Easy Application & Strong Bond
Peel and stick labels are the most time-saving and convenient way to attach warning labels to packaging. They need no explanation and removing each label from the backing paper is a simple, hassle-free task. When using these labels, keep in mind that they have strong adhesive. Make sure the positioning of the label is correct before attaching it to packaging because once it's on, it's staying put.
Add Your Contact Phone Number
Our supply of lithium battery warning labels also helps you meet another regulatory requirement – providing a contact phone number. Labels feature a blank space designated for including this important information. You can also select one of our custom printed lithium labels below to customize your roll so they come pre-printed with phone number to make label application even easier!
For neatness and a professional look, you can have us print your contact phone number on your label order. Simply contact us by phone at 855-632-8520 or send us a message at [email protected] and we'll take care of the customizing.
---