D.O.T. Subsidiary Risk Labels – D.O.T. Shipping Labels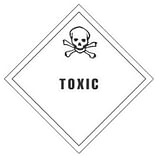 Subsidiary risk labels are similar to D.O.T. labels in the fact that they contain hazard warnings to help those handling your package understand the associated risks. The main difference between these labels and D.O.T. labels is that subsidiary risk labels do not contain the class number that they belong to while D.O.T. labels do. So, even though these labels will indicate that something is corrosive, flammable, spontaneously combustible, poisonous, toxic, or some other hazard, they do not contain the class number as categorized class six hazard labels would. For specific class DOT hazard labels please view our D.O.T. hazard labels.

At Supplies Shops, we make safety affordable. Our D.O.T. shipping labels are packaged in value-priced rolls and the self-adhesive labels can easily be affixed to any type of package or box. Plus, we offer a discounted rate per roll when you order two or more rolls. Shop online today at Supplies Shops for all of your D.O.T. subsidiary risk label needs or create your own label in our custom label shop. For questions about any of the products we offer or for help ordering, we can be reached by emailing [email protected] or by calling 855-632-8520.
---