Anti-Static Labels – Warning Labels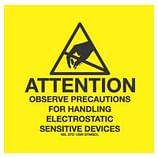 Anti-static labels from Supplies Shops are printed with symbols and text that provide cautionary warnings for handling electrostatic sensitive devices. Some of the warning labels simply indicate the contents of the package, while other labels indicate that the contents should not be opened unless at a proper static free work station, as the contents can be damaged by static electricity. Featuring a MIL STD 129N Symbol, whoever handles a package with these anti-static labels will be sure to observe proper precautions for handling electrostatic sensitive devices.

Anti-static labels from Supplies Shops are designed to be attention grabbing. The labels are bold and have symbols that will alert the handler to the importance of the label, so they can quickly discern that the contents need to be handled carefully. The warning labels are self-adhesive and are easy to apply, permanently adhering to the box or package of your choice. The labels are sold in rolls of 500 for the best value.

Anti-static labels are priced competitively and orders over $99 qualify for free shipping. Choose from our pre-made anti-static labels or pick one of our other shipping and handling label designs. We even offer the option to create your own custom labels. For questions about our labels or for help ordering, we can be reached by emailing [email protected] or by calling 855-632-8520.
---