Safety Glasses & Eye Protection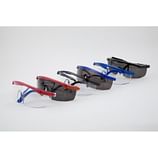 Industrial eye care and eye protection is vital, with eye injuries annually costing companies millions of dollars due to their accompanying loss of production, high medical expenses involved, and Workers' Compensation costs.
Equip your facility with safety eyewear built to provide the best protection available, and at the right price. Our protective eyewear is available in an assortment of colors, lens finishes, frame designs, and options for UV protection and indoor/outdoor use. In addition, we have ANSI (American National Standards Institute) approved chemical impact safety glasses with anti-fog and perforated ventilation features.
For facilities employing numerous workers, pick up one of our lens cleaning towelettes stations, which help employees keep their lenses clean and clear of grime.
Be sure and check out The Supplies Shops' other facial protection products, including Beard Covers, Head and Face Protection and Face Masks.
To contact our friendly and knowledgeable customer service team for questions about any of our merchandise, or for assistance with ordering, our email is [email protected] and phone number is 855-632-8520. Remember, all orders over $99 qualify for free shipping!
---