Face Coverings - Face Masks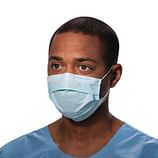 Now more than ever before, face masks are an important component of personal safety equipment, providing protection from dust and other particulates, as well as aerosol pathogens. The Supplies Shops carries a wide array of face coverings, including unrated nuisance-level dust masks; cloth face coverings that protect against large droplets, sprays or other airborne particles; surgical procedure masks; and KN95 respirators that are FDA and CE Certified.
Our face masks come in both disposable and washable styles, with bulk purchase discounts that make it economical to maintain a ready supply. Features include elastic ear loops (with latex-free choices) for easy on-and-off, metal nose bands and pleats for enhanced facial conformity, a variety of materials from polyester fabric to polypropylene, and a wide selection of colors.
Our face masks come in a variety of packaging quantities to align with your facility needs and budget. For additional protective facial gear, browse our Beard Covers, and Protective Eyewear, and don't forget Gloves.
For questions about any of our merchandise, or for assistance with ordering, contact our friendly and knowledgeable customer service team via e-mail at [email protected] or by phone at 855-632-8520. Remember also that all orders over $99 qualify for free shipping!
---