Beard Covers/Guards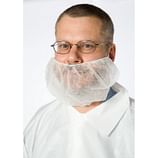 According to the Association of periOperative Registered Nurses (AORN), for Aseptic Practice, "Personnel entering...semi-restricted and restricted areas should cover the head, hair, ears and facial hair." Our Beard Covers are the perfect way to comply with this standard, in addition to being appropriate for preventing facial hair contamination in the food preparation and food service industries.
Wherever hair protection is encouraged or required, our economical and disposable polypropylene beard covers ensure the cleanliness of your work area. They can be worn over the mouth, a mustache and even your nose. Constructed from polyethylene, they keep dirt and dust away from your beard and lower face. They are also water and chemical resistant. For those with latex sensitivity, check out our latex-free design.
For additional facial protection, browse through our selection of Protective Eyewear and Face Masks.
All the components of these products, manufactured by The Safety Zone, comply with the Federal Food, Drug and Cosmetic Act, which allows their repeated use in direct contact with food as well as in personal safety equipment for medical, food processing and food service applications.
Purchase beard covers in bulk for your workplace, to keep the unit price to a minimum. In addition, all orders over $99 receive free shipping.
Contact our friendly and helpful Supplies Shops customer service team with any questions or for assistance placing your order. Our e-mail is [email protected], or you may call us at 855-632-8520.
---