Hard Hats for Construction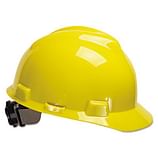 Hard hats are a vital safety precaution against head trauma at industrial or construction sites, where head injury can occur as a result of falling objects, impact with other objects, debris, rain and electric shock. Our Honeywell HDPE Shell Hard Hats meet OSHA standards for safety, giving your employees confidence and peace of mind while on the job.
Our hard hats are manufactured using High Density Polypropylene (HDPE), known for its exceptional tensile strength, high strength-to-density ratio and melting point, and high-impact resistance. Features include a 4-point lock ratchet suspension for secure placement, an adjustable band to ensure proper fit, and a washable sweatband. Choose from a variety of vibrant colors. For enhanced breathability, check out our vented design.
Our hard hats are sold individually, and The Supplies Shops offers free shipping on orders over $99. Don't forget to browse our other industrial personal protective safety gear, including Body Protective Coveralls, Rainwear and Boots, Industrial Ear Plugs, Shoe Covers, Protective Eyewear, Face Masks and Gloves.
For questions about products or ordering assistance, feel free to contact our friendly and helpful Supplies Shops customer service team via e-mail at [email protected] or by phone at 855-632-8520.
---