Protective Shoe Covers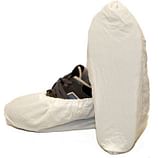 Our selection of disposable shoe and boot covers will protect you — or the surface you're walking on — from dust, dirt, grease and liquids in numerous industrial or commercial environments such as medical, food industry, janitorial, construction, laboratory, real estate, etc.
Choose from a variety of protective materials, colors (including clear), tread or non-tread, in either shoe or boot sizes. The elastic openings ensure easy on/off and a secure fit. For additional body protection, check out our Body Protective Coveralls, Gloves, Polypropylene Hoods and Protective Sleeves.
All the components of these products, manufactured by The Safety Zone, comply with the Federal Food, Drug and Cosmetic Act, which allows their repeated use in personal safety equipment for medical, food processing and food service applications.
The more you order, the more you save through our volume discounts. Plus, all orders over $99 qualify for free shipping!
If you have questions or need assistance ordering, don't hesitate to contact us via e-mail at [email protected] or by phone at 855-632-8520. Our goal at The Supplies Shops is to ensure you have a seamless, satisfying shopping experience.
---