Industrial Safety Coveralls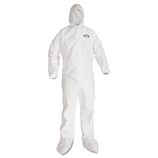 Our Body Protective Coveralls offer an economical way to protect against dirt, grime and other particulates. With a wide selection of styles and sizes, it's easy to find the coveralls, short or long lab coat, or hood that will safeguard you at your workplace, shop, farm or wherever you're around potentially harmful materials.
Our polypropylene body covers are breathable and can be worn around hazardous or non-hazardous contaminants. Other advantages of polypropylene are that it resists water and chemicals, plus it's eco-friendly and can be recycled.
Choose among standard polypropylene coveralls, available in blue or white, or SMS coveralls, made through combining a thin, meltblown polypropylene barrier layer between two layers of spunbond polypropylene. For super-breathability, check out our White Breathable Micro Film Lab Coat.
Another popular option is our DuPont™ Tyvek Coveralls, which are available with hoods and boots for head-to-toe protection. Tyvek is effective against dry particulates such as asbestos, lead paint, dirt, dust and light liquid splash. A tough material, Tyvek cannot be easily scratched or compromised.
Our coveralls have several features for added safety and convenience, such as elastic wrists and ankles, and pockets. For head and face protection, we have Polypropylene Hoods that can be purchased separately.
If you're not sure which product is best for your circumstances, contact our friendly and knowledgeable customer service team at The Supplies Shops for assistance. Reach us by e-mail at [email protected] or by phone at 855-632-8520. Don't forget, orders over $99 qualify for free shipping!
---