Disposable Protective Sleeves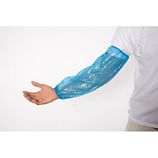 For employees working around harsh solvents, cleaning solutions, dyes or other liquid chemicals, it's vital to have adequate skin protection for arms in case of splashes or spills. Our disposable protective sleeves offer a sealed extra layer of protection when worn with gloves and other safety attire such as our Body Protective Coveralls.
The protective sleeves come in a variety of materials: polyethylene (PE), vinyl, polypropylene, Dupont™ Tyvek, PE-Coated Polypropylene and an extra-breathable, micro-porous material designed for comfortable wear over longer periods of time. All sleeves are 18" (with the exception of one 16" style), elastic-banded for secure fit, and available in blue, white or clear.
All the components of these products, manufactured by The Safety Zone, comply with the Federal Food, Drug and Cosmetic Act, which allows their repeated use in direct contact with food as well as in personal safety equipment for medical, food processing and food service applications.
Check out all the options, and don't hesitate to reach out to our friendly and knowledgeable customer service team at The Supplies Shops if you have questions or need assistance ordering. We're available via e-mail at [email protected] or by phone at 855-632-8520. Don't forget that all orders over $99 qualify for free shipping!
---