Gloves: Chemical-Resistant, Driving, Welding, Winter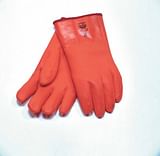 Improve Workplace Safety with the Right Gloves
Protecting the hands from hazards — whether that be harmful chemicals or heavy machinery — is vital to creating a safe workplace. Protect employees, reduce liability and keep your workplace safe and hyenic with workplace safety gloves from The Supplies Shops. We strive to serve professionals across a host of industries, whether you work in a factory, a lab, a medical environment, a workshop, or a garage. Our store is a great place to shop if you're looking to load up on bulk industrial-use gloves for a great price. We also offer free shipping over $99.
Protective Gloves for Dozens of Applications
With options made of nitrile, latex, PVC, cotton canvas, leather, and fleece, there's a pair of gloves in this selection to meet the rigors of your work environment, no matter if you handle harsh chemical cleaners, food, power tools, or medical hazards on a daily basis. Our chemical-resistant gloves are made of flock-lined latex, nitrile, neoprene, and other materials that protect hands from harsh chemicals, making them perfect for lab, janitorial, workshop applications, and more. We also offer high-quality and affordable welding gloves and driving gloves made of premium materials for long-term use.
Our selection of single-use and disposable gloves is truly unmatched, with many options for food service, janitorial, and medical applications. Options include powder-free and powdered nitrile, latex and vinyl gloves. And we make it easy to ensure that your employees stay safe and compliant with easy-access glove dispensers you can install around your facility. We hope you find what you're looking for here, but if you still have questions or concerns, please get in touch via e-mail at [email protected] or by phone at 855-632-8520.
---