Chemical Resistant Work Gloves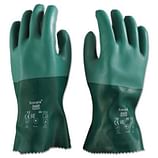 The Supplies Shops offers hand protection for workers in virtually any type of industrial occupation, from kitchen and food service to manufacturing and construction. Our hard-wearing, disposable or reusable gloves safeguard employees' skin from hot, soapy water; chemicals and solvents; dust, dirt and grime; extreme heat; blades and other sharp edges; and other hazardous particulates and liquids.
Our gloves, which are sold individually or in cases, are constructed with an array of high-quality materials including PVC, latex, nylon, nitrile, polyurethane, neoprene, cotton synthetic blends, canvas and metallic core (follow links to view a sample product in that material). Many designs combine layers of different materials for added safety and functionality.
With a wide array of glove sizes, colors, linings (or unlined), lengths and cuff designs, you're sure to find exactly the type of hand protection your workers need. The Supplies Shops' volume discount pricing helps keep this necessary safety accessory within budget. Also, any orders over $99 qualify for free shipping.
Learn more about all our industrial personal safety attire and gear here. If you have any product questions or issues with ordering, our friendly and knowledgeable customer service team is always on hand to help. Contact us via e-mail at [email protected] or by phone at 855-632-8520.
---