Digi-Clear Window Envelopes – Safe for Laser Printing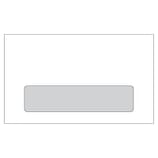 Are you searching for an envelope with a clear window that can withstand the rigors of going through a laser printer? Supplies Shops has the perfect solution – Digi-Clear laser-safe window envelopes. The main problem with laser printing regular window envelopes isn't the paper, it's the film material, which usually melts, shrinks, or wrinkles under the laser's heat. Well, that's no longer a problem thanks to our innovative specially treated window film material. The windows in these envelopes are heat-resistant, so they do not sustain damage as they pass under the laser's glaring heat. When you switch to quality laser safe window envelopes, the windows on your printed envelopes come out looking clear, intact and ready for mailing. Enjoy using Digi-Clear window envelopes in the popular #10 size and a variety of other convenient sizes.
Heat-Resistant Window Film
In the past, there was no way to safely put standard clear window envelopes through the laser printing process due to the fragility of the window film. Because the plastic film is so thin, it's vulnerable to heat damage once the laser hits it. This lead to countless wasted envelopes due to warping of the windows. So, we decided to do something about this common problem. Digi-Clear window envelopes can safely be laser printed thanks to the durability of heat-resistant window film material. So, if short-run printing is a top priority, we highly recommend choosing this brand for all your laser printed mailing projects.
Convenient #10 Sizes for Multiple Uses
We originally introduced Digi-Clear in the standard #10 window envelope size and it proved to be a big hit with customers. This is still one of our most popular sizes and we offer it in the traditional white, white sulphite with confetti tint, and in various pastel colors for infinite mailing uses. It sure is nice to be able to use clear window envelopes that you know are going to turn out looking professional every time, and Digi-Clear #10 window envelopes can be an indispensable part of your mailing projects.
Specialty Window Styles
Due to the popularity of Digi-Clear window envelopes, you can now find them in a wider variety of styles. For instance, we offer this heat-resistant envelope in a 6x9 size and a 9x12 size. We also have #10 postage meter styles for your convenience. And if you need a double window envelope for highlighting the recipient address and your return address, we offer this style with two Digi-Clear windows.

Are you curious to learn more about these innovative laser safe window envelopes? See our video describing the uses, benefits and sizes available for Digi-Clear Laser Safe Window Envelopes.

Don't forget we also offer custom labels, custom envelopes, custom filing folders, as well as custom business forms.

Get free shipping on all orders over $99 and save big. Do you have questions? Contact us by email at [email protected] or call us toll free anytime at 855-632-8520.
---