Windowless Booklet Envelopes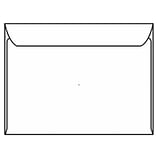 Mail confidently and securely with windowless booklet envelopes. We carry over 150 blank booklet envelopes which are perfect for annual reports, brochures, and sales literature. Shop for open side booklets in any size and color. Whether you need a sleek-looking booklet envelope for sending a company brochure or a large brown kraft style roomy enough to hold an info-packed booklet, we've got just what you want. You can even find alternative colors such as yellow and pink for special mailing projects.
While selecting your booklet envelopes, be sure to check out our custom envelope printing services.
If you can't find the windowless booklet envelope size you're looking for, contact us and we'll be happy to help you!
---