Pressure Seal Mailers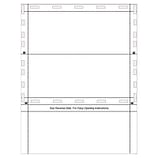 Give productivity a boost with pressure seal / U-seal / snap pack mailers. We offer high quality mailers that make processing all or part of your business communications cheaper and simpler.
Blank and Ready for Printing
These U-seal mailers are blank on all sides to give you creative freedom to add whatever information you wish. This makes it easy to use the same form for countless purposes. Common uses include invoices, bills, past due notices, PIN information, statements, and transcripts. They can also be used for marketing and test results.
Easy Sealing
With U-seal mailers, there's no need to purchase separate sealing equipment. These mailers can be hand-sealed with a 10# pressure level. If machine processing is preferred, they can be run through a desktop folding machine.
We can also be your online resource for continuous paper and bulk copy paper.
Questions about blank pressure seal forms? Give us a call at 855-632-8520 and we'll provide friendly assistance. Or send your question to [email protected].
---