Pressure Seal Checks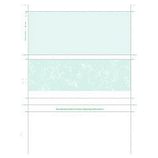 Printing payroll and other types of business checks at your business location requires a special type of form for your laser printer. These forms are called pressure seal checks. They are also called snap pack mailers due to their convenient design. At Supplies Shops, we offer a large selection of current styles, so you can decide exactly how you want your checks to look.
Choose Standard or Advanced Security
Creating and printing checks comes with a responsibility to ensure they meet security policy standards. In general, pressure seal checks are made with security paper that keeps printed information from being easily visible once it is sealed. There are also printed instructions that guide check recipients on how to open the sealed mailer to keep the check intact. If you need a higher level of security, consider ordering fingerprint checks.
Lots of Color Options
You don't have to settle for the same old color scheme when you purchase your pressure seal checks from us. Discover checks in hues of blue, green, pink, red, and prism combinations.
Contact us with any questions you may have at [email protected] or talk to our customer service reps at 855-632-8520.
---