Patient Chart Dividers – Filing & Organization Tools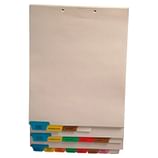 Developed with primary care practices in mind, stock printed patient chart dividers from Supplies Shops are great for effective office organization. Designed to make daily office filing activities simple, the chart dividers feature colored Mylar tabs with popular titles and an additional blank write on erasable tab for your specific labeling needs. The chart dividers are sold in packages of four, six or eight to suit your needs and are priced low so you can order some for a new practice or for updating an existing office. The reinforced tear-proof Mylar tabs are printed with the same title on both sides, so you can read the tabs from the front or the back of the file. These stock printed chart dividers are made from durable 90 lb. stock, so they won't bend, flop or fold on accident. Dividers measure 8-1/2" x 11" with tabs extending an extra 1/2".
Stock chart divider sets are packaged and shipped collated and ready to use. Eight chart divider sets are shipped 50 sets per box, six divider sets are shipped 65 sets per box, and four divider sets are shipped with 100 chart divider sets per box. Other filing supplies are also available at Supplies Shops and shipping is always free on orders of $99 or more. For help ordering or locating a particular product, our customer service team can be reached by emailing [email protected] or by calling 855-632-8520.


Stock Chart Dividers come in sets of 8, 6, and 4 tabs with the following tab sets pre-printed and collated:

8 Tab Printed Chart Divider Sets

6 Tab Printed Chart Divider Sets

4 Tab Printed Chart Divider Sets

HISTORY & PHYSICAL (Blue)

HISTORY & PHYSICAL (Blue)

HISTORY & PHYSICAL (Blue)

Write on Erasable Blank Tab

Write on Erasable Blank Tab

Write on Erasable Blank Tab

Benefits of Chart Divider Sets
Quick and easy access to information
Organize large file folders
Choose 8, 6, or 4-tab medical sets
Order with tabs at end or on side
Developed for primary care practices
Stock patient chart dividers quick ship and are ready to use upon arrival
Need custom medical chart dividers? Try our custom divider wizard!
---