Single-Ply Manila Folders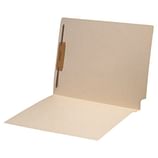 Multipurpose Single-Ply Manila Folders
Single-ply manila folders are some of the most-used supplies in busy offices, and we've got them for a great price here at The Supplies Shops! These folders are designed to be economical and versatile, integrating with ease into a wide range of environments and filing systems. All of our single-ply manila folders have a single-ply end tab with scored tick marks for easy application of color coded labels. A wide variety of sizes and styles are available to meet your specific needs, so be sure to stock up and enjoy free shipping over $99.
We have a multitude of manila folder options for you to choose from. They're all designed with single-ply materials and therefore aren't the best option for busy or frequently handled files. With that being said, we do offer some heavy-duty manila folders in this selection that can stand up to more rigorous environments. We offer various types of manila folders to serve a variety of purposes, including SFI compatible manila folders designed specifically for use with your SFI labeling system as well as super extended tab, kraft paper, and mini manila folders.
Need something more durable? Check out our reinforced manila folders, which are the standard for shelf filing applications.
Need Help? Get in Touch
You might be surprised to know that The Supplies Shops was founded in 2006 solely as The Filing Supplies Shop. Although we've grown our offerings to include many more office supplies, filing is still our specialty. We can help you build a complete, custom filing system tailored to your industry, regulations, file types and needs, no matter how complex your vision! If you need assistance or would like to place a custom order, get in touch with us via e-mail at [email protected] or by phone at 855-632-8520 and we'll be glad to assist.
---