Policy Envelopes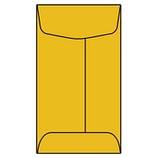 Policy Envelopes
If you need a secure way to hold documents or objects, a policy envelope will do so in a sleek, sophisticated way. Policy envelopes are an open-end style envelope that has its opening along the short measurement side. Policy envelopes are made from durable white or brown kraft paper that resists damage. It's like insurance for valuable files and objects — including insurance forms.
Most organizations use policy catalog envelopes to protect important papers over an extended period. They also can be mailed — and when addressed horizontally, they don't require extra postage. An open-end policy envelope is excellent for sending legal papers, financial records, event invitations and other documents you want to safeguard during transport. These business envelopes can be thought of as a stronger version of a standard envelope with an open end instead of an open side.
High-Quality Policy Envelopes
The Supplies Shops will help you stock up on business policy envelopes for many needs. We carry #10 policy envelopes, #11 policy envelopes and #14 policy envelopes to efficiently hold a variety of documents. In addition to SFI-certified kraft paper policy envelopes, you can purchase black woven envelopes made of 30% recycled materials.
We're happy to customize policy envelopes for mailing or storage. Request printed return addresses, logos, unique sizes and more — we're open-ended when it comes to personalization. These short-side catalog envelopes are sold in packs of 500 so you have enough on hand. With volume pricing, free shipping on orders over $99 and experts available by phone at 855-632-8520, purchasing envelopes from The Supplies Shops is always the best policy.
---