#A8 Announcement Envelopes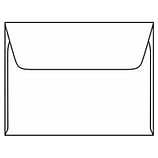 Choose these #A8 envelopes from The Supplies Shops to create a great first impression with important mailings. The #A8 envelope size is one of the most popular options for announcement envelopes, especially when sending out greeting cards and formal invitations. With a deep square flap and double side seam construction, these stylish #A8 envelopes are most commonly used with baronial cards for social and commercial announcements.
#A8 announcement envelopes are recommended for any time you want to achieve a formal look when sending invitations or R.S.V.P. cards. These 5-1/2" x 8-1/8" envelopes are constructed from your choice of white or creme colored paper, giving you perfectly subtle and neutral options for sending out mailings to customers, clients and business associates. Free shipping is included with orders over $99.
We offer custom printed envelopes as well, and you can contact The Supplies Shops at [email protected] or 855-632-8520 if you have any questions about our products or customization options.
---