#A10 Envelopes – 6" x 9-1/2" Business Envelopes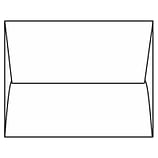 Find the best selection of #A10 envelopes when you shop online at The Supplies Shops. #A10 envelopes are a particular style of announcement envelope with a deep square flap and double side seam construction. These high-quality office supplies are most commonly used with baronial cards for special mailings and social or commercial announcements. The Supplies Shops also offers the panel cards that would fit these envelopes, along with custom printed envelopes.
Set Your Business Apart
Because #A10 envelopes are also commonly used for greeting cards and wedding announcements, they have a more personal look and feel compared to a standard business envelope. Companies can also use these #A10 announcement envelopes for a more formal look when sending invitations or R.S.V.P. cards. Choose from standard white or colored envelopes to coordinate with your materials. When simple paper or cardstock is used, #A10 envelope postage is very affordable, making it a cost-effective way to help your mailing stand out.
#A10 Envelope Size
#A10 invitation envelopes measure 6 in x 9-1/2 in in size and are made with white or crème-colored sulphite paper. Some of our styles are also machine-insertable envelopes, which allows you to streamline the process of mailing prep. The large flap also helps to ensure that your mailing stays secure inside. We offer discount prices for bulk orders plus free shipping on orders over $99. To learn more or to inquire about our custom envelope solutions, don't hesitate to contact us at 855-632-8520 or [email protected].
---