#6-3/4 Remittance Envelopes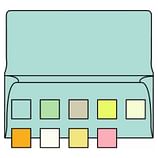 Get the superior quality you desire for a remittance envelope in the #6-3/4 envelope size when you order collection envelopes from Supplies Shops. There is a lot you can do with envelopes measuring 3-5/8" x 6-1/2" and we make it easy to explore all useful possibilities with bulk quantities in stock. Save by ordering several boxes of your favorite color(s) at the same time and enjoy quantity discounts.
Encourage Donations or Subscriptions
How can your organization or company encourage recipients of your mailed communications to take the next step? Include a remittance envelope with your letter and literature. Even in the era of online donations and purchases, some people still prefer to send donations and subscriptions by mail. Make sure you give everyone on your mailing list the opportunity to choose how to interact with your request by using remittance envelopes.
Select White or Attractive Colors
White is always a great neutral color for remittance envelopes, and you can select your choice of bulk white quantities. You can also find this envelope style in a range of attractive colors that suit the mood or theme of your mailing kit.
Are you interested in customizing your #6-3/4 remittance envelopes? Great! Let us handle all the custom printing details for you. Chat with our customer service team at 855-632-8520 or email [email protected] for more information.
---