#6G Coin Envelopes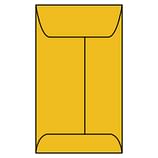 Every envelope size has a useful purpose and that includes this #6G envelope. It's another coin envelope size we carry to give you the most thorough choice of sizes during your coin envelope shopping. This one measures 3-3/8" x 6" and offers plenty of storage room for a multitude of items and objects. You can order bulk quantities from Supplies Shops any time in your preferred color choice. If you have big plans for these envelopes, it's the perfect time to take advantage of wholesale pricing and stock up.
Store Coin or Stamp Collections
What do you do with valuable stamps that are not a part of your display? Store them inside of #6G coin envelopes! Because they are made of strong kraft paper, these envelopes provide good protection for a handful of stamps.
Multiple Storage Uses
Find numerous ways to make use of these small size envelopes for storing all sorts of items. They can be used to store seeds, coins, small parts, and more.
If you have any questions about your #6G envelope order or want to learn more about our custom envelope printing, call customer service at 855-632-8520 or email your questions to [email protected].
---