#00 Envelopes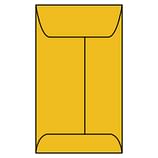 Sometimes you need an extra small envelope and that's why we offer the popular #00 coin envelope. We are your one-stop reliable online supplier of this specialty envelope and you can always count on us to be here when it's time to stock up on as many #00 envelopes as you require. We offer this coin envelope style in tan/brown and white for a variety of uses.
Small Size for Small Things
The #00 envelope is among the smallest and that's perfect when you've got small things that need to be stored securely. What kind of items are ideal for this size? Well, seeds are one item that can easily fit inside. Small components or bits that you want to keep separate from other components are also able to fit. Crafters and sewing enthusiasts may use them for storing buttons and needles. Stamp and coin collectors can also use these to catalog and store their collections. Basically, this envelope is a good one for a wide variety of small or tiny objects.
Durable Kraft Construction
Durability is still important in a small size envelope such as this one and these kraft envelopes are well-constructed. They are made from the same strong paper used to create larger sizes used for mailing. If you need them custom printed, let us know.
Feel free to contact us online, by email at [email protected], or by phone at 855-632-8520 should you need our assistance with your coin envelope order.
---