Medical Security Paper & Prescription Paper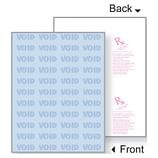 High-Quality, Cutting-Edge Medical Security Paper
Protect your medical facility from document fraud using this medical security paper from The Supplies Shops. This cutting-edge security paper is equipped with up to 10 unique security features, preventing it from being copied, scanned or photographed without authorization. Preventing document forgery is easier than ever when you use these products to produce sensitive documents, such as prescription pads, MRIs, cat scans, test results, medical forms and records. The Supplies Shops can help you find the right security paper in whatever quantity and format you need.
Designed to Prevent Medical Document Fraud
We offer a wide variety of medical and prescription security paper by DocuGard, all of which exceeds the guidelines set by the Centers for Medicare and Medicaid Services (CMS). Our premium DocuGard security paper comes with 10 anti-tampering features, including a hidden VOID pantograph that appears when the document is photocopied. It also features an erasure resistant color background, microtext printing, a DocuGard watermark, coin reactive ink, security features listing, heat sensitive thermochromic ink, invisible fibers as well as chemical reactive paper and toner grip.
All of these features help make duplication virtually impossible with a copier, scanner or even a camera. Ensuring maximum protection against fraud, this high-security paper can be used in many applications in addition to medical uses. Employ it in the creation of documents containing sensitive or secret information or to prevent the duplication of prescriptions, checks or personal documents in order to safeguard your business and lower liability. Copy-proof paper is a simple, economical measure you can take in the prevention of counterfeiting.
This cutting-edge anti-forgery paper is available in multiple colors and sizes to suit your specific needs. Easily create and file sensitive documents with convenient sizes, including 8.5 x 11 and 11 x 17. Shop medical security paper in standard blue and green options in a wide range of quantities from The Supplies Shops. Choose from blank paper, prescription paper and security paper that meets the specific California state regulations for prescription paper.
Free Shipping Over $99 and Volume Discounts
Stay compliant and safeguard your business with these excellent DocuGard paper options and enjoy free shipping when you spend $99 or more at The Supplies Shops. If you don't see what you're looking for or want to place a custom order, don't hesitate to contact us at [email protected] or 855-632-8520 for personalized advice.
---