2, 3 & 4-Part Carbonless Paper - Multi-Part Paper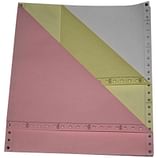 Get multiple copies for important records when you use this multi-part carbonless paper from The Supplies Shops. Continuous 2-, 3-, and 4-part computer paper is designed for dot matrix printers, where the paper is pin-fed through the printer. Great for creating work orders, invoices, and other documents where multiple duplicate copies are needed, this carbonless computer paper comes in many sizes with various color options. Blank, white/canary/pink, and green bar formats are all available to suit any of your record-keeping needs. Configurations include 2-, 3-, and 4-ply options that allow enough copies for all parties involved.
Multi-part carbonless computer paper is easy to use and instantly creates a way to keep track of multiple copies. For example, a yellow and white 2-part continuous feed computer paper design allows you to keep a white copy for your own records and give a yellow copy to the customer. These multi-part papers are packaged in one continuous carton to be fed through impact matrix printers, with perforations to create the proper form size. The pin-feed holes along the side are also perforated for easy removal. Choose from this selection of high-quality dot matrix printer paper to create a streamlined and reliable system for your business.
---