Red Thermoformable UPVC Splicing Tape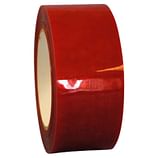 Whenever you need join rolls of thermoforming film, The Supplies Shops has red UPVC splicing tape for a firm hold. This synthetic plastic tape is part of the process to create plastic sheets and parts. It's generally used as a splicing tape and is specifically designed for wrapping, holding and splicing many thermoformable film applications. In particular, it can be used on web-fed thermoforming equipment to splice roll-to-roll film. The red color is clearly visible so you can remove it afterward without having to feel around for edges.

Wholesale Red Thermoforming Tape
For tape splicing, you'll need tape that can withstand fierce vacuum, pressurized and mechanical forces. Our film splicing tape is coated with a natural rubber adhesive and has a rigid thermoformable red UPVC backing. This thermoformable splicing tape also features high elasticity, is moisture- and heat-resistant and is resistant to diluted acids and alkaline.
With several widths available and up to 48 rolls per case, we have the right plastic film splicing tape for your project. Spend over $99 to receive free shipping when you order from The Supplies Shops.
---