Red Thermoformable UPVC Splicing Tape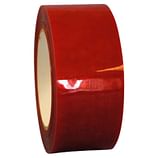 Exhibiting a rigid thermoformable red UPVC backing, our film splicing tape is coated with a natural rubber adhesive. This tape is generally used as a splicing tape, and is specifically designed for wrapping, holding, and splicing many thermoformable film applications. In particular, it can be used on web-fed thermoforming equipment to splice
roll to roll film. Our thermoformable splicing tape also features high elasticity, is moisture & heat resistant, and is resistant to diluted acids and alkaline. When you order from the Supplies Shops, spend over $99 to receive free shipping.
---