Tab Compatible File Labels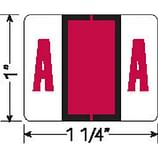 You get slightly annoyed when your friends call you "Perfectionist Patty," but secretly you love arranging your clothes and shoes in season and color order, alphabetizing your kitchen spices, and adhering to a daily schedule, which you write down without fail every morning, after you make your bed.
That's why when it comes to office filing, you insist on Tab Compatible file labels. Made of durable Kimdura vinyl or vinyl stock, the bright colors and bold patterns of these labels increase the visibility of all your files. They're easier to identify, lessening the possibility of files being misplaced or lost. The variety of color patterns gives you plenty of file categorizing options.
Tab Compatible file labels are designed for both top-tab and side-tab file folders. The top-top file labels measure ¾"W x 1"H and are available in single-letter rolls of 500 labels each, or as a complete set that includes all 26 letters in 500-label rolls. The side-tab labels are 1"W x 1¼"H before folding, and they are available as single-letter rolls of 500 labels each, complete sets, or starter sets that include all 27 letters in rolls of 500 labels each.
For questions about packaging options on these labels or for help with ordering, connect with us online or contact our courteous and knowledgeable customer service team at [email protected] or 855-632-8520. Don't forget to take advantage of our volume discounts and free shipping on any order over $99.
Did you know that The Supplies Shops can also create custom-sized and custom-printed labels tailored to your company's exact specifications? Click here to find out more.
---